Healthy Sight Matters
Blurry vision, trouble focusing at school, and a tough time on the playground. These are common challenges associated with childhood myopia. Setting your child up for success in all aspects of their life is crucial.
With customized myopia control solutions, our goal is to help your child manage myopia and prevent it from progressing. Learn more about myopia control and how we can assist your child by booking an appointment today.
Book Appointment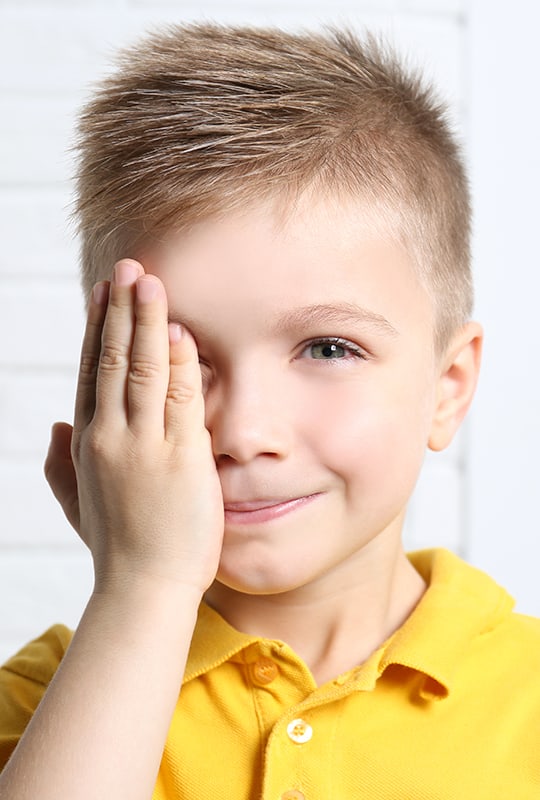 What is Myopia?
Myopia, or nearsightedness, is a refractive error that occurs when light doesn't pass through the eye correctly. Typically, light enters the eye through the cornea and pupil, passing through the lens and eventually hitting the retina at the back of the eye. The retina transmits light information to the brain through the optic nerve, which the brain interprets as an image.
When light refracts incorrectly due to myopia, it lands in front of the retina instead of directly on it. This error can cause blurred vision at far distances, as well as:
Frequent eye rubbing
Trouble concentrating
Headaches & eye strain
Excessive blinking
Squinting to focus
As your child's eyes grow, myopia can progress, worsening over time. It's critical to provide your child with the necessary tools to slow myopia progression and prevent more severe eye problems later in life.
Book Appointment
How Myopia Control Works
Early intervention to manage myopia can improve visual function and impact your child's ability to learn and grow naturally. Our myopia control methods are personalized to your child's unique situation, and we work closely with you and your child to ensure treatments are as effective as possible.
MiSight 1 Day Soft Contact Lens
MiSight 1 Day are a leading-edge soft contact lens designed to help your child resist focusing and prevent myopia progression. These contact lenses have been shown to slow myopia progression by an average of 59%.
Soft Multifocal Contact Lens
Soft multifocal contact lenses have 2 parts for focusing light. Shaped like a bullseye, the center of the lens corrects myopia so your child's vision is clear at a distance. The outer part of the lens focuses peripheral light in front the retina to help slow myopia.
SpecialEyes Soft Contact Lens
SpecialEyes contact lenses are designed for use when your child has hard-to-fit eyes that require a little more attention than regular contact lenses can provide. These contact lenses account for irregularly-shaped corneas and other issues that may be causing your child's myopia.
Orthokeratology
Orthokeratology, or ortho-k, uses hard contact lenses to reshape your child's cornea gently overnight. After putting them on before bed and wearing them while they sleep, the goal is that your child will have clear sight throughout the day so they can learn and play effectively.
Give Your Child a Chance at Clear Vision
We care about your child's growth, development, and happiness. Part of that is looking after their vision with personalized myopia control solutions so they can see clearly and comfortably. Get in touch with us to learn more and book an appointment for your child today.
Book Appointment
Visit Our Location
Our practice is located on Cyber Drive in Bend with plenty of parking, so you can get to your appointment without worry.

Our Address
336 SW Cyber Drive, Suite 100

Bend

,

OR

97702
Hours of Operation
Monday

:

8:00 AM

–

5:00 PM

Tuesday

:

8:00 AM

–

5:00 PM

Wednesday

:

9:00 AM

–

5:00 PM

Thursday

:

8:00 AM

–

5:00 PM

Friday

:

8:00 AM

–

5:00 PM

Saturday

:

Closed

Sunday

:

Closed
Book Appointment
Our Brands
We stock a wide selection of eyewear brands to provide the right frames to suit your unique face shape and personality. Our optical team is here to help you find the brand that expresses exactly who you are so you can shine to the world. Explore our brand selection to find a pair that interests you, and we'll help you discover more in person!
Check us out on Instagram
This error message is only visible to WordPress admins
Error: No feed found.
Please go to the Instagram Feed settings page to create a feed.