Get the Relief You Need
Dry eye disease can cause irritation, grittiness, redness, and inflammation that can interfere with your vision and distract you from the moments in life that truly matter. This chronic condition can be challenging to overcome, especially without much-needed support.
Our comprehensive dry eye therapy solutions are tailor-made to support your individual needs. Our goal is to provide you with the relief you deserve by supporting your dry eye therapy every step of the way. Get in touch with us to learn more about how we can help you.
Book Appointment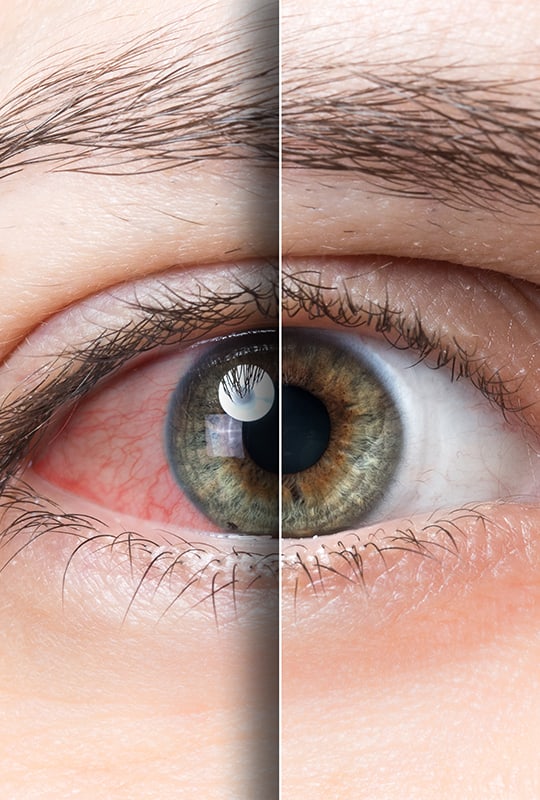 What is Dry Eye Disease?
There are 2 types of dry eye disease, each of which causes similar symptoms:
Evaporative dry eye occurs when tears diminish too quickly because they don't stay on the eye surface. This type of dry eye is more common, often caused by meibomian gland dysfunction.
Aqueous deficient dry eye is less common and occurs when you don't produce enough tears. When you don't have enough tears, they can't properly lubricate the eye surface.
While each type of dry eye can cause similar symptoms, understanding which kind you have is the first step to developing your dedicated treatment plan and bringing you the relief you deserve.
Our Personalized Treatments
Nobody has the same dry eye disease. Each person's situation is unique to them, which means having a variety of treatment options is crucial to providing relief. We often group treatments together to increase the likelihood of a successful outcome.
Oculus Tear Breakup Analysis
We use our Oculus Keratograph 5M to examine how your tears behave, particularly how they break up. The Oculus is crucial to helping us diagnose your specific dry eye condition and informs our treatment plan moving forward.
Artificial Tears
Artificial tears, or eye drops, can help relieve dry eye symptoms like grittiness and irritation. They provide moisture to the eye surface when tears aren't functioning correctly and can be an efficient and effective way to gain relief.
Punctal Plugs
Punctal plugs are a common treatment for aqueous deficient dry eye. Punctal plugs are small rubber implants we insert into the small openings at the edges of your eyelid near your nose called the puncta to prevent your tears from draining too quickly.
Medications & Supplements
Meibomian Gland Expression
Meibomian gland expression consists of physically unblocking clogged tear glands manually by pushing clogs out of the glands to increase the likelihood of good tear function. Meibomian gland expression is often completed in addition to other treatments.
Find Your Treatment Today
Our dry eye diagnosis and treatments are personalized to you and your unique needs. Get the relief you deserve—get in touch with our team today to find the right treatment plan for you.
Book Appointment
Visit Our Location
Our practice is located on Cyber Drive in Bend with plenty of parking, so you can get to your appointment without worry.

Our Address
336 SW Cyber Drive, Suite 100

Bend

,

OR

97702
Hours of Operation
Monday

:

8:00 AM

–

5:00 PM

Tuesday

:

8:00 AM

–

5:00 PM

Wednesday

:

9:00 AM

–

5:00 PM

Thursday

:

8:00 AM

–

5:00 PM

Friday

:

8:00 AM

–

5:00 PM

Saturday

:

Closed

Sunday

:

Closed
Book Appointment
Our Brands
We stock a wide selection of eyewear brands to provide the right frames to suit your unique face shape and personality. Our optical team is here to help you find the brand that expresses exactly who you are so you can shine to the world. Explore our brand selection to find a pair that interests you, and we'll help you discover more in person!
Check us out on Instagram
This error message is only visible to WordPress admins
Error: No feed found.
Please go to the Instagram Feed settings page to create a feed.